Today John and I removed the cylinder head from cylinders 1 to 3 because that's where the the leaking injection sleeve is located. This also gave us a chance to look at the condition of the piston and liners and John was very happy with what he saw . The forward water jacket plate will need to come off because some of the bolts holding it on are badly corroded. This meant taking the injection pump off too.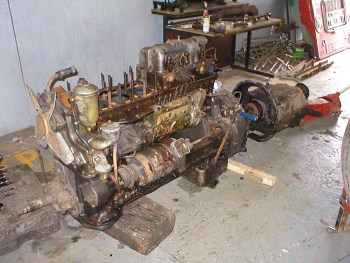 The front head comes off the Albion EN242 9.08 litre oil engine

On splitting the gearbox from the engine we found that the clutch is well worn and will need to be relined, although John was slightly baffled at the difference in wear rates on either side. The pressure plates are cracked in places and we will need to refer to David's parts list to see if these are available in Australia. The centre spigot bearing is partially seized and will need to be replaced.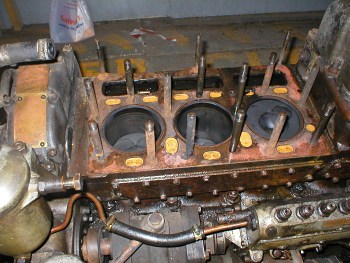 The condition of the bores looked reasonable

There are two excellent 10.00 x 20 tyres (radials) which have come off the nearside rear, but the rest of the tyres are not suitable for re-use.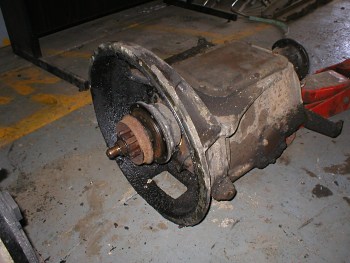 The Albion GB211 four speed constant mesh gearbox

Meanwhile Tam has found more corrosion on some of the uprights just above the bottom of the top deck windows. This, he says, will not present any major problem to deal with, although he will need to make a frame to support the roof before he goes any further. All seat frames, the staircase and rear platform have been removed. The bus is rapidly becoming a skeleton!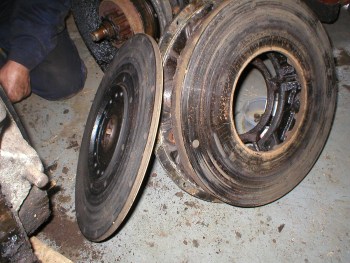 Albion clutch - the friction plate has different wear rates on either side