On one of his fleeting visits to the UK, Andy Stewart flew north for a meeting of the Group at Lathalmond on the morning of 6th April. In the afternoon he joined us to do some work on the bus. As it happens Andy served his time with a motor dealer in the south of England, which stood him in good stead for keeping his own CX19 running on those epic journeys from Australia to the UK and back in the early 1970s. Unfortunately there was nothing for Andy to get his teeth into that afternoon as John and Davie were waiting for parts coming and there wasn't a lot happening. But of course there are always plenty of seat frames to attend to! It's not the most fulfilling job sanding down seat frames, but Andy got right into it and another half dozen frames are now in the store awaiting primer. On my way home I dropped him off at Edinburgh Airport for his connecting flight back to Adelaide.

On the following Sunday we got started on the brake overhaul and the drums were removed from the front axle. The linings were found to be in excellent condition, but we discovered that the wear plate on one of the nearside brake shoes had detached itself and was loose inside the drum. This must have severely compromised the effectiveness of the front brakes. Attention to this and a couple of bearings was all that was needed to complete the front brake overhaul. Thankfully these bearings are still available off the shelf.

Another little job attended to was the manufacture of two rubber grommets for the bracket which supports the brake rods. Judging by amount of wear on this bracket, the original grommets had long deposited themselves somewhere between Wynyard and Sydney's Northern Beaches several decades ago and there had been nothing preventing metal to metal contact ever since. We couldn't locate suitable grommets in the Lathalmond stores or elsewhere, so we made our own from two suitable diameters of rubber hose. The smaller diameter hose was inserted through two larger diameter pieces with the (repaired) bracket in between.


Andy gets the short straw... seat frames to prepare!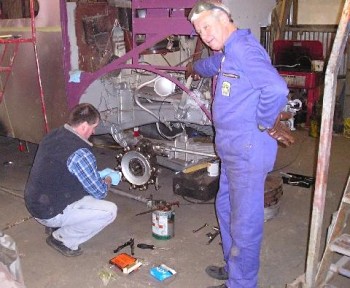 The drums are off... Andy looks on as Davie starts the front brake overhaul.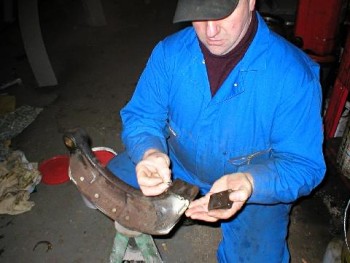 The wear plate on one of the brake shoes has come adrift.
The bolts have sheared.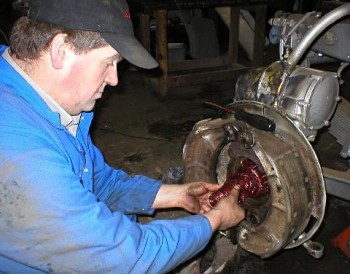 A new bearing goes on. These can still be obtained from bearing suppliers.

Job nearing completion... locking wire goes on to the clamping nut.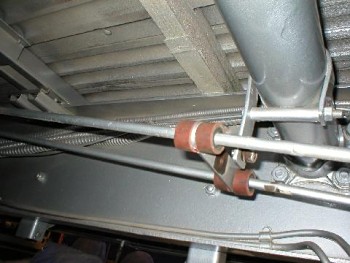 New grommets for the rear brake rods made out of rubber hose. The rod passes through the black hose which is inserted in two pieces of red hose with the bracket in between. The hoses are bonded with superglue. The nearer rod is operated by the footbrake, while the other rod comes from the handbrake.